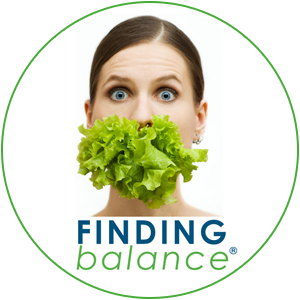 I have enjoyed a long working friendship with Constance Rhodes, founder and CEO of FINDINGbalance, a non-profit organization dedicated to providing resources to help individuals struggling with food and body image issues. One of the great resources that Constance provides is the Lasting Freedom Online support groups. These affordable support groups provide not only interaction with others who are struggling but also get the benefit of teaching from some of the countries leading experts on anorexia, bulimia and binge eating. I would recommend this online support group for anyone looking for additional help in their recovery journey.
Every week the group has the chance to participate in an online webinar and ask questions of various experts and inspirational individuals who provide hope for recovery.  Recently I have been a guest host for the webinar and have interviewed Jennifer Strickland, former runway model and author of Girl Perfect, Kelly Maxwell, a professional counselor in St. Louis who specializes in eating disorders and this next week will talk with author and life coach Elizabeth Turnage about how God uses our story to redeem pain and suffering in our lives.
Last month I was on the webinar as a guest and discussing the topic of managing urges such as binging, purging, excessive exercise and other compulsive behaviors. I offered tips that I use in my recovery coaching business (Revision Recovery) and talked about strategies for resisting the compulsive behaviors related to eating disorders. It was great to be able to sit in my house here in Missouri but impact the lives of people around the country.
Most of the webinars are available to Lasting Freedom members only but this particular resource is available for free on Vimeo. Enjoy!