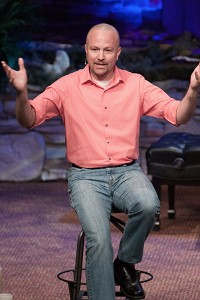 Travis Stewart has been mentoring others since 1992 and became a Licensed Professional Counselor in 2005. His counseling approach is relational and creative, helping people understand their story while also building hope for the future.
Travis has experience with a wide variety of issues which might lead people to seek out professional counseling help. This includes special interest in helping those with compulsive and addictive behaviors such as internet and screen addiction, eating disorders, anxiety and perfectionism.
Specifically, he has worked with eating disorders since 2003 and has learned from many of the field's leading experts. He has worked with hundreds of individuals facing life-threatening eating disorders in all levels of treatment. Because of the complex nature of eating disorders he has experience with the following:
Anorexia, Bulimia, Emotional Eating, Binge Eating
Depression
Suicide
Body image
Family and communication issues
Identity development
Life decisions
Spirituality and faith
He was the visionary for the annual Hungry for Hope Conference, a Christian based conference which provides training and help for both professionals and lay people in the treatment of eating disorders. An excellent communicator and teacher, Travis is a regular consultant to FINDINGbalance and has spoken at schools such as Pepperdine University, Baylor, Washington University, and graduate schools and seminaries on the topic of eating disorders and body image. He was also a presenter at an international conference on eating disorders in 2008 in Budapest, Hungary.
Travis graduated from the University of Nebraska in 1991 with a degree in advertising and immediately began working with the international ministry of The Navigators, mentoring students. After 8 years, his desire to better understand how people change, and through his own experience of receiving help from a professional counselor, Travis decided to return to school. He earned a Master of Arts in Counseling (2001) and a Master of Arts in Theological Studies (2003), both from Covenant Seminary in St. Louis, MO. Travis is a Licensed Professional Counselor in the State of Missouri.
Travis is also the owner of Revision Recovery Coaching
If you have received treatment for an eating disorder you know that it requires courage, honesty and perseverance. Now you want your hard work to produce lasting freedom. However, recovery poses challenges. How do you manage urges? How do you re-enter school, work and family life after treatment? Many relapse because they struggle to navigate these challenges. Will you have someone with expertise helping you along the way?
Coaching will help you:

Utilize skills learned in treatment
Manage triggers and urges
Experience spiritual growth
Discover an identity outside of the eating disorder
Speaker and Communicator
Travis is an experienced communicator and public speaker. He regularly teaches on eating disorders and body image as well as the Christian faith, and the intersection of media, movies and culture. Travis has presented to students and staff at college campuses around the country:
Azusa Pacific University
Baylor University
Covenant Theological Seminary
Dallas Baptist University
Fuller Theological Seminary
Fontbonne University
Grand Canyon University
Malone University (Ohio)
University of Missouri
Oklahoma State University
Pepperdine University
Southeastern University (Florida)
Washington University (St. Louis)
Westmont College (Santa Barbara, CA)
If you are interested in having Travis come and speak to your group or organization please contact him at travis@wtravisstewart.com